Selections from

SCORCHED BIRTH
a poetry cycle
by John Curl
Buy this book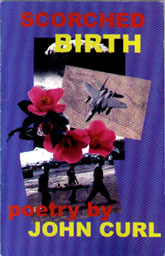 CONTENTS
THE TRAGEDY AT THE CORE
MUTED SHADES OF BROWN
THE CLOUDS UNDERSIDES
OUR LIVES ON A SUMMER BREEZE
THE SUN ROSE ON A FOGGY
SHEET METAL FLAPS IN THE BREEZE
ALL OF OUR MEN ARE GONE
VEIL OF MIST AROUND THE SUN
A FEW OLD MEN HAVE FOUND SHELTER IN THE BASEMENT
TOWERS SILHOUETTE AGAINST THE SKY
FALLING FROM THE CLOUDS
A ROW OF HILLS
IN EARLIER ATTACKS
VIEW FROM THE BARRED WINDOW
THE RAVEN SPOKE ABOUT THE WAR
---
THE TRAGEDY AT THE CORE
Information on what's going on
on the ground is sketchy.
They only show us the bomber's eye view.
Reverberations of shelling bounce off
the mountain sides.
The nervous ladies chatting
about fashionable colors.
A pale thin moon circling the ring.
Misty peaks sink into the
dark surface of the bay.
Light rippling.
While the mountain passes are littered
with decomposing corpses lying
as they died.
No one approaches.
Except a bulldozer driver and six
jumpy soldiers. He dumps
dirt on top of the pile. Yet
in the midst we try
to lead decent lives, create a
just society, even love and try to
purify our human soul. Maybe
we have to just accept the
contradictions. Nearby,
a gray wolf with frightened eyes
dashes across a moonlit stream.
---
THE CLOUDS' UNDERSIDES
were dark and ragged while
their tops shined and billowed
above the bare hills, almost
devoid of vegetation while
not far away, in the grass by
a whispering stream at the
very spot where wilderness
holds back civilization,
the ruins of an ancient temple
wince from shrapnel wounds.
The state of human consciousness in
our darkest age.
Vehicles scatter in charred twisted
heaps. Unsafe to go outside.
They refuse to identify the bodies.
A small girl with a redhaired rag doll,
left for dead, at nightfall crawls away.
Is this our purification by fire?
---
OUR LIVES ON A SUMMER BREEZE
we have nothing but our hands.
Some fifty thousand refugees
stream out, the report states,
independently confirmed.
Rocket-propelled grenades punch
holes in all the barn roofs,
looting rampages along main street,
no food or medicine getting through,
she picks up the baby,
cluster bomb explodes,
you prick yourself on a thorn:
your lover is lying to you
one drop of blood sits on your fingertip.
a huge antlered stag silouettes for an instant
against the night sky.
Rebuilding shattered dreams.
---
THE RAVEN SPOKE ABOUT THE WAR
under conditions of anonymity
1
white-crested waves as far as the eye can see
killed by paramilitaries
writers and schoolteachers, executed yesterday,
shed a golden light over the fields
a red brick house covered in ivy
blames the flight of wild ducks
while an elderly walled garden
blooming with lilacs and hawthorn
exhausted, in a state of shock,
sleeps in doorways and on sidewalks
2
babbling brooks are caressed by
the spiral of violence
air raid sirens sound confessions of love
smooth thighs praise grim pictures
children stare out of windows, solemn and gloomy,
egrets charbroiled beyond recognition
food medical supplies glide over pools of mother's milk
anti-aircraft missile kissed beyond exhilaration
bodies of foxes crash into forgiveness
3
first robin of spring balancing funerals
lawyers pound earthworms for a sixth day
extremist groups rejoice under cottonwood trees
spreading sweet nothings like propaganda on the dance floor
pearl necklaces surround thousand of refugees
as terrorists hurl passionate melodies on violins
engulfing the buildings in a balmy afternoon
4
sparrows whisper about the troubled province
hydrangea shake the city with strong intimations
red peonies hit by surface-to-air missiles
carousels executed on Sunday
fantasies of crystal shot dead by police
ethnic hatred snapped the turtle's endurance
gas masks dumped into corn flowers
reliable sources reported
5
pounding the southern city with strange haunting pictures
featherless birds launch new attacks against targets
dozens of missiles strike the tree shaped like a hand
as a parade of naked men seated on animals of every kind
fire missiles at three-fifteen a.m.
on the populated part of the city
helicopters and snipers augment the usual security forces
with laws of color, unutterably beautiful
while a grove of olive trees, dark against the glimmering sky
announces it is sending additional troops
and jets pummel a broad swath
across the disturbing tranquility of a woman
---
Copyright © 1999, 2001 by John Curl. All Rights Reserved.